Business Mentor
Digital Course Developer, Trainer, and Speaker
You're only one step closer to your goal once you start achieving your milestones.
But most often than not, simply finding your goal is already hard enough!
If you are in need of someone that will push you to achieve your fullest potential, help you put the puzzle pieces together, and give you motivating results so you'd keep moving forward even when you don't feel like it, you've come to the right place.
Book a call below and find out how!
I believe
in
Paulo Coelho, author of the "
The Alchemist
" when he said,
"
And, when
you want something
, all
the universe conspires
to help you
achieve it
.
" — think of me as someone the universe sent to
make your ideas happen.
Coaching
Turning your passion into a purposeful business using smart and scalable systems. 
She nurtures the mind, focuses on personal and business growth to achieve sustainability, and make a bigger impact, setting new benchmarks for your business. 
Consulting
A visionary mentor dedicated to transforming your passion into a profitable business venture. Through purpose-driven entrepreneurship, she empowers individuals to take bold actions and achieve tangible results. Her expertise lies in crafting smart and scalable business strategies that unlock the full potential of your income streams.
Digital Marketing
Fueled by an unwavering passion for training, coaching, and business consulting, she's taken on various roles in digital marketing to help bring businesses online and reach their full potential. 
You don't need to learn everything. When things seem to fall off your hand, our team of digital marketers and virtual assistants are ready to help you achieve the results that you want.
Training
Digital marketing, E-commerce, WordPress Website Development, Virtual Assistance, Social Media, Online Entrepreneurship, Digitized Education.
Speaking
Motivation, business mindset, homeschooling, online workspace, teamwork, collaboration, leadership, personality development, home-based lifestyle
Course Development
Curriculum development, training materials, LMS integration and implementation, course materials, ebooks, pdfs, lead magnet, and content creation.
Passion + Purpose + Prosperity = Y O U
"Life is not all about us. It's about what we are willing to do, learn, and give so that others can feel you exist and is making a difference. "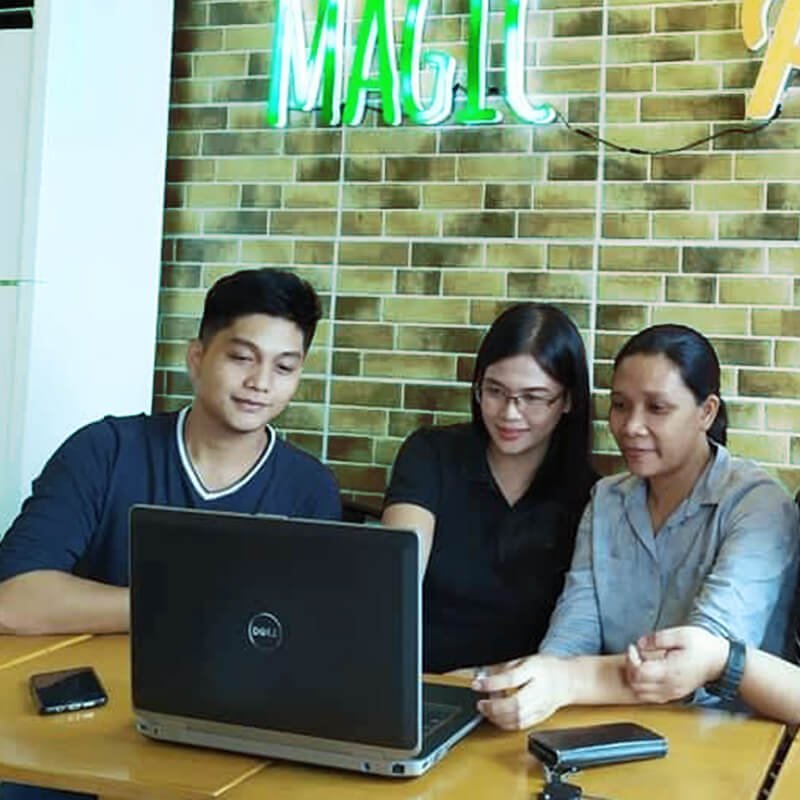 Since 2014, we have been in the training, coaching, and consultancy industry, helping people like you rediscover yourself to build a business around your passion and finally find your life's purpose. Your gift to the world.
My long-time fascination for business development, online entrepreneurship, and digital skills training equipped me to help clients looking to build a thriving online business. 
Mission, Vision and Core Values
I have gathered friends that will help me help you. It's not an easy journey, and having the best people around will ensure that we deliver motivating results. 
Mission
To help clients discover their passion and life's purpose, and turn it into a thriving business by providing motivating results through compelling communication, consultancy, and a growth-focused digital marketing team. 
Vision
To see 1,000 new businesses exponentially change people's lives through their passion-filled and purposeful service. 
Kindness

Integrity

Equality

Growth-focused
I hope to build a dependable community of online professionals filled with talents,  and a strong family-like culture, that cultivates character, growth, and entrepreneurship. 
I continually help clients discover their passion and life's purpose. For them, my guidance is a comforting thought while they conceive their ideas, and get through the birth pains of a thriving business. I believe that if I help enough people find their purpose, I would've fulfilled my "gift to the world".
Let's hear from our happy clients!
Because I love what I do, and so are they… 
"Rochefel is a wonderful person with a caring heart. Essentially, she assisted me as a business development consultant to help me find the right people to grow my team. I highly recommend working with Rochefel Rivera and her team."
"Rochefel, thank you for taking the lead in organizing FOPSCO. Excited to see it reaching its potential with your leadership and teamwork commitment. Your passion in helping others develop their technical skills will help empower more Filipinos to go digital."
"First, Thank you so much for the work, time, and dedication you and your team put together to help me! Second, if you want to develop your ideas, potentials, experiences, or your dream to the next level she will be the right person to consult with and build your fundamentals structure to get started. She builds my website and a course fluently in English and Spanish, less than two months. Third, we took my experience as a mechanical insulator to a tremendous level to help a lot of people in the industry. I'm very amazed at the amount of work we put together in a short period with great communication skills. Lastly, I recommend her to the fullest extent that anyone can be recommended! 10/10 RATING! Thank you once again!"
"Her professionalism draws people 's trust and confidence in whatever business development projects she helps with. Roche speaks from her heart thus establishes genuine and lasting relationships. I adore her dynamic personality. She never stops training and learning, and she's forever evolving."
Let's Start Something new
Say Hello!
Want to ask or tell me anything? Feel free to send me a message, or book a call!